THINKtank: Building Smart Homes in 2021
---
By Jeff Cornelius - October 27, 2021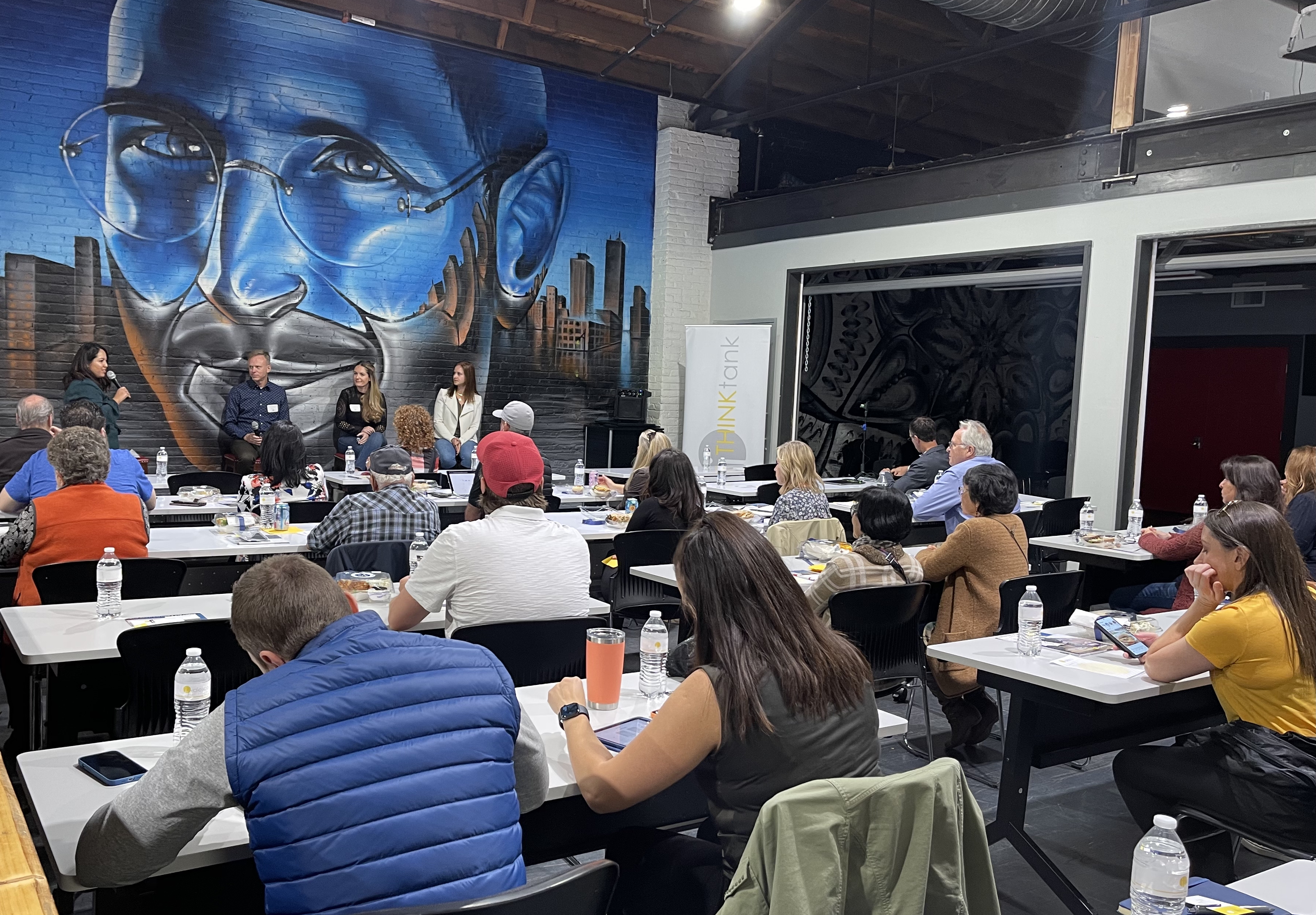 On October 12th, we hosted our THINKtank: Building Smart Homes in 2021 at GRID Collaborative Workspace on S. Broadway. This THINKtank was a Q&A format focusing on all things involved in smart home automation – planning, installation, costs and innovations on the horizon. We were thrilled to have Steve Herbert of Samsung's Smartthings, Haley Selden of Digital Media Innovations and Lauren Browne of Larsen Development as our panel of experts.

There were many great questions and a healthy discussion from our audience members. Below, we've attributed answers with the initials of each panelist who addressed the question and summarized their answers for purposes of this post. We've chosen a selection of questions to summarize here, but you can watch the full video on our Instagram channel HERE.

Q. What are the main smart home features are you seeing in your projects?

HS. Every project that we're doing is going to have a home internet network feature, along with home security. The next step will usually involve climate control like a NEST thermostat or something. And then from there, it does become a little more client specific. We're seeing a lot of home audio distribution – in ceiling speakers, hard wired TVs and things like that.

LB. In the luxury market, we're seeing that everyone wants a voice control of their system. We're seeing a lot of people moving to Josh. With Josh they can say "Josh, turn the TV on. Or, Hey Josh, I'm home" and the lights turn on, music, TV, etc.

SH. I work with a lot of production homebuilders like the bigger national homebuilders. The Top 5 categories I see builders using are lighting controls, thermostat, locks, doorbells and cameras and garage control. With Samsung, a lot of our systems can be controlled with your smartphone, so you'll have add-ons like music, lighting, things like that.

Q. At what point is it too much? Is there a line that consumers don't want to cross?

SH. On the builder side, they are obviously concerned with cost, and they are trying to get the highest adoption that makes sense to scale, so you see more of the entry level systems there.

LB. I work with luxury builds so we see everything from a $16,000 system on up to $300,000 depending on the components used.

HS. It really runs the gamut. We do systems that are simply a pre-wire, all the way up to $500,000, so really, the sky's the limit.

Q. Lauren, at what point during the design-build process to you start discussing smart home integration?

LB. It really starts in the beginning. At one of our first meetings, we'll ask the client if they want to go high-end or low-end and what kind of systems they are going to want in their homes. It really impacts so much of how the home is designed, so it's important to have that discussion at the very beginning. For example, if someone wants to include automated window coverings, so that impacts how things are designed.

HS. Yeah, it's critical that the discussion happens as soon as possible because certain things have to happen in order. We can obviously add things later, but it can become difficult to do that if things have been built one way and then we have to change them after the fact.

Q. How does that work if you're working on a retrofit like a home that's already been built?

HS. That depends on the level of remodel that's being done. Obviously, it's easier to run wires if a house is being taken down to the studs, but if drywall is in place, we can integrate wireless systems. Wired is always better and sometimes it will be a mix of the two.

Q. Steve, you told us about the basic packages that builders are using, but what are you seeing that's on the horizon?

SH. One of the things I've been working on at Samsung the last 2 years is how a smart home can handle energy management. With Smartthings, you can break down how your home uses energy on a room-by-room basis and a system-by-system basis like how much energy each of your appliances are using and that all reports to a central interface, so you know how much all of these things are costing you. Now we're working on integrating your home into the utility company so you can maximize your energy efficiency and the utility can inform you of the most cost-effective time to utilize your systems. It saves them energy when they need it most and it saves the homeowner money by running a system at a lower-demand time if they want. We're also working a lot on air quality systems.

Q. So if I wanted to integrate an energy management system in my new home, what needs to happen on the build side to prepare for that?

SH. With Samsung's Smartthings and some of the appliances, they simply connect wirelessly to a hub in the home and the usage is uploaded into the cloud, so there isn't any need to hardwire. You can also mount a monitor in your breaker panel so that it monitors the energy use of individual circuits. A lot of those circuits are dedicated to your HVAC system, or water heater, so that's how you can monitor each of those without having something connected directly to the system.

Q. Lauren and Hayley, are you seeing a lot of requests for these energy management solutions and air quality features?

HS. It's on the new and next list for us. Since COVID, we've seen an increase an increase in the interest in air quality systems.

Q. Since you mentioned COVID, have you seen a lot of disruption to your supply chain and systems you need?

HS. It's not too bad, but we are seeing some delays in the AV control systems. We tell our clients to plan for about 8 weeks on the delivery of those systems, which is longer than we saw before COVID.

SH. Oh my gosh, it's so bad. It's the bane of my existence right now. At Samsung, a lot of the integration we do is built around our appliances and those deliveries are really delayed right now. 

Q. Steve, what kind of research do you use at Samsung to inform what kinds of products you're developing?

SH. We do a lot of product research and a lot of it comes from our headquarters in Korea. A lot of the things we see interest in from the US, has already been addressed in Korea, like air quality. That's something they've been dealing with for a long time because they get a lot of bad air floating over from China. Similarly, energy is more expensive in Korea, so they have been focusing on energy efficiency and management for a long time.

Q. Lauren, what problems are you seeing in the field when implementing these systems?

LB. The biggest problems we're seeing now are the delays due to supply chain issues and the imbalance in the trades with all the construction going on.

Q. Hayley, how are you seeing smart home automation affecting the architects and how they plan?

HS. Well, it's critical that the architect is involved from Day 1 because let's say you're going to be installing a central lighting system, that's going to completely change the electrical design. Luckily, the architect is one of the first people consumers meet with when designing the home, so they have had to become much more informed about these smart systems.

Q. So, for spec builders, what do you think is a good basic package for them to include for the customer to then build on?

HS. At the very least, pre-wire everything. It costs about $1 per foot to pre-wire, but it gets so expensive to retrofit things after the fact. You should be pre-wiring for home network, locks, lighting, all of those things.

SH. I encourage builders to build as much available and appropriate technology into their spec homes, but it only works if there's something there that can run a demo properly. If you build it into the home, but the consumer can't see it work properly, there's not going to be as much interest.

Q. Are there privacy or security concerns from consumers around these smart home features?

LB. A little, especially from the luxury buyer, privacy seems to be important to them. That's why the Josh system is so popular because all the data and commands stay in the home, unlike Alexa, which shares information with Amazon.

Q. Steve, are you seeing any roadblocks to consumer adoption of these smart home systems?

SH. Right now, installation is the biggest thing. If you really want to drive adoption, wireless and easy integration is key. These aren't things that are easy to DIY in bits and pieces, so it helps if they all work together across systems. There's a new standard called "Matter" that's an interoperability standard that all the major manufacturers are working on. It will probably be a few years before we see this universal standard in place, but it's coming. Also, one of the things we are working on is what happens when you sell your home and a new owner comes in? It can be difficult right now to reset everything for the new owner, so that's something we're working on at Samsung.

That concluded the curated questions posed to our panel. We opened the floor up to questions from the audience and you can watch an additional 30 minutes of great questions and answers from our panelists by watching the video on our Instagram channel HERE.
Go Back