2021 HBA Innovation Summit
---
By Jeff Cornelius - July 30, 2021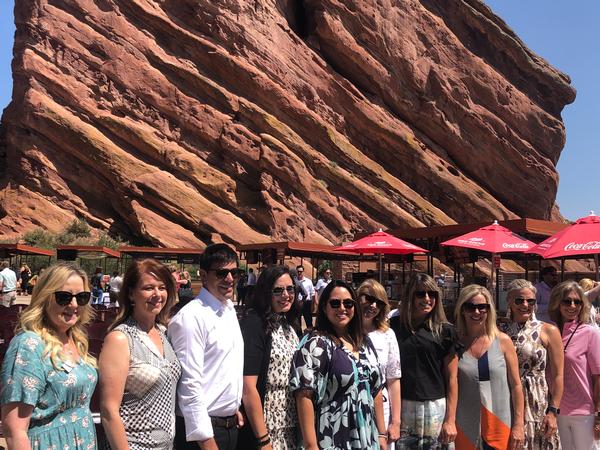 July 27 was a beautiful morning at Red Rocks for 2021's HBA Innovation Summit. Invalesco's Managing Broker, Gilda Zaragoza, was the Chair for this year's Summit. She, along with Brian Cassidy and the entire Innovation Summit committee, put on a great event at an iconic venue.

Mark "Stink" Schlereth, former Denver Bronco and three-time Super Bowl Champion was the emcee, and the keynote speaker was Scott Dikkers, founder of the Onion. Mark hosted a panel discussion with Adam Reed of Big Red F Restaurant Group, Qadra Evans of Zillow and Rachel Benedick of Visit Denver to talk about innovation, perseverance and what they've learned and changed in their businesses over the last 18 months.

Below is a summary of the stories and key takeaways from each of the speakers.

Scott Dikkers, Founder of The Onion
The only thing Scott has ever been sure of is his love of comedy. In fact, founding The Onion seemed like nothing more than a joke at the time, but The Onion has continued to evolve, and thrive as the media landscape changed around it. Scott fully admits he was ill-prepared to run any kind of business, but he continued to put one foot in front of the other, hire good people, and things continued to progress. Scott said "You don't have to be good at the thing you want to make better. If you hire good people, and let them do what they are good at, they will innovate for you."

During Scott's time there, The Onion was threatened with multiple lawsuits by local businesspeople, governors, pop stars and movie moguls to name a few. One of those threatening to sue The Onion was the attorney representing the estate of Ginger Rogers. After searching for a copyright infringement he couldn't find, that attorney ended up being The Onion's pro bono legal counsel for many years, defending the publication's right to satirize almost anything. That fortuitous turn of events turned out to be one of many during Scott's tenure at The Onion. Scott's parting words were "Find what you're passionate about, and pursue it obsessively."

Mark Schlereth, 3-time Superbowl Champion and TV NFL Analyst
In addition to Mark's success stories from the football field and the broadcast booth, it was his personal story of overcoming adversity at home that drove home all the points he was making about perseverance. While his kids were still young, Mark suffered a temporary paralysis, which left him unable do much physically for months. Frustrated with his physical limitations, he decided to help the family out by making lunches for his kids before school.

In those lunches, he'd insert little notes for each of his kids. Sometimes short, sometimes long, sometimes funny, sometimes heartfelt. After a while, his kid's friends started to gather at lunchtime to see what that day's note said. Mark said, "Out of this tragic event, an incredible connection and source of pride was formed with my kids."

Mark's final words to the audience were "Build a team and take care of them," and "Remember, it takes 15-20 years to become an overnight success."

Adam Reed, Big Red F Restaurant Group
As the Director of Operations, Innovation and Beverage for Big Red F Restaurant Group, Adam had a front-row seat for one of the most drastic business challenges faced by any industry during COVID-19. He stressed that COVID forced his company to revisit all previous assumptions and challenge the notion that "this is the way we've always done it." That was not going to see them through the pandemic.

Adam said "The restaurant business has always been a tale of two careers and compensation has never been equal among staff. We took this opportunity to revisit those assumptions and realized we needed to take better care of our entire team." This team-based approach also involved donating meals to food banks and offering take home meals to hourly employees. The result has been that the staff now operates and looks after each other as teammates. "The mercenaries are gone," said Adam.

When asked about the most important aspect of leadership Adam said, "The ability to have a clear vision and communicate that vision to your team."

Qadra Evans, Zillow
Teamwork was a common theme in Qadra's remarks as well. She said that Zillow has always prided itself on its culture, but COVID brought that mission into much sharper focus. One of the things Zillow did early in the pandemic was to increase the frequency of company meetings from quarterly to monthly to increase transparency and communication across the company. Company leaders were brutally honest with challenges, which inspired the rest of the company and created buy-in to get through challenges as a team.

Of all the initiatives Zillow tried during COVID, two stand out for Qadra. One was creating teams built across the country. These cross-country teams have yielded a wealth of perspectives and experiences that have yielded better collaboration and ideas than they experienced pre-COVID. Another was the inspirational lunches that Zillow sponsored. Qadra said "They encouraged employees to think differently and not be afraid to pivot. As human beings, we're meant to pivot."

Qadra's biggest lesson from COVID? The importance of putting one foot in front of the other.

Rachel Benedick, Visit Denver
As Executive VP of Sales and Services for Visit Denver, Rachel and her team faced huge challenges due to COVID. Visit Denver is a non-profit that is responsible for marketing Denver as a convention and leisure destination – they are in the business of face-to-face gatherings. So, when COVID halted all travel, their budget went from $43M to $12M overnight.

Reinforcing earlier sentiments, Rachel stressed how important her team was and the importance of clear, transparent communication. Rachel said "I took for granted that I saw my team every day. I started having 30-minute meetings each week with everyone on my team, just to connect with them on a personal level – it made such a huge difference for us as a team. The biggest thing we continue to do to get our team excited is clear communication, realistic goal setting and continuing to ask for input. I won't always agree to what's asked, but I will listen."

Rachel said her favorite leadership quality is curiosity. The idea that leaders should always have the answers is outdated. More important is the ability to ask the right questions, learn and adapt. Rachel commented that from COVID, a new sales mindset had taken hold with her team. Rather than the old "ABC" sales adage meaning "Always Be Closing," her team embraces a new kind of "ABC – Always Be Compassionate."

The speakers' and panelists' personal stories of overcoming challenges this past year, reminded us we can achieve our goals through constant curiosity, questioning the status quo and lots of trial and error.
 
Go Back