REal Investing: ADUs
---
By Sherri Stinson - April 9, 2021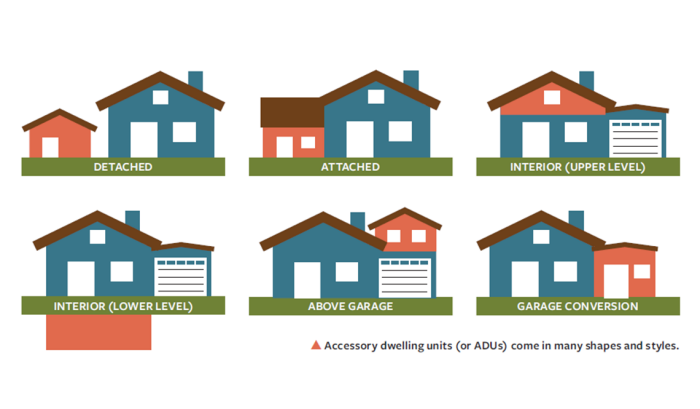 Accessory Dwelling Units (ADUs) have become a hot topic for investors in the Denver-metro looking to leverage the income potential of their next single-family home purchase. However, not all residential lots are created equal. This month, Invalesco Advisor Sherri Stinson talks about ADUs and what to look for when searching for your next real estate deal.

What is an ADU?
Accessory Dwelling Unit or ADU is the not-so-quaint term for a small, independent carriage house built on the same lot as a larger, single-family home. They are also referred to as casitas, granny-flats, or mother-in-law suites. These small side-kick homes have boomed in popularity over the past few years for several reasons, first being the need for more affordable housing options in Denver. Blueprint Denver, the citywide outline for land use and transportation plans, recommends "diversifying housing choice through expansion of accessory dwelling units throughout all residential areas". The Denver zoning code currently allows for one ADU per lot in 25% of the city, with certain neighborhoods like Platt Park and Berkely receiving an ADU zoning overlay. ADUs add to the available housing inventory without affecting the overall character of each individual neighborhood, thus making them a more desirable housing solution than larger multi-family buildings.

ADU popularity has further increased with the adaptation of short-term vacation rentals through online booking sites like Airbnb and Vrbo. Denver currently permits homeowners to offer such rentals only as part of their primary residence; therefore, ADUs provide an ideal detached but inclusive income opportunity. The onset of the COVID-19 pandemic also sent ADU demand sky-high as homebuyers sought out separate yet functional spaces within their own homes. Accessory Dwelling Units scratch all three of these itches in one compact solution. Allowing lots to be zoned for ADUs is a creative solution for builders, investors and homeowners in the Denver-metro area.

Is your lot right for an ADU?
There are three factors to consider when determining if your property is right for an ADU addition, and they can all be referenced by digging into the Denver Zoning Code (exciting stuff, I know).
The zone lot requirements – which zoning codes allow ADUs and what are the requirements.

The lot size – lot size requirements for ADUs differ based on the zoning lot requirements.

The lot coverage – how big you can build in comparison to the original house.

If you want to do the work yourself, look at the Denver ADU Zoning Map to determine the zone code for your lot. Then, use the zone descriptions to determine whether your zoning code allows an ADU to be built. Once you know that your property is a suitable ADU site, you then need to dig into lot coverage and determine what portion of your lot can be occupied by an ADU in relation to the primary residence.
Here is a breakdown of some of the Denver zoning codes that allow for ADUs along with the minimum lot requirements. For a comprehensive zoning list, please refer to the Denver Zoning Code or a licensed architect.
What if I'm not zoned for an ADU?
Denver City Council allows variances for lots not currently zoned for an ADU on a case-by-case bases. Residents can apply for a rezoning after paying a $1,000 filing fee. According to Blueprint Denver, which outlines the long term goals for each of Denver's 26 zoning districts, "these rezonings should be small in area in order to minimize impacts to the surrounding residential area".

How to get started:
You can reach out to Denver's Residential Plan Review staff residentialpermits@denvergov.org to review your property and determine if it is a good candidate for an ADU, and/or hire a licensed architect to conduct a feasibility study on the lot to be rezoned. The Denver Department of Development Services has also created a helpful project guide for detached dwelling units to help you streamline the permitting process. A seasoned realtor with knowledge of ADU zoning can also help you look for properties that meet the city's requirements for ADUs as part of your initial home search.
Go Back