THINKtank: Marketing Multi-Family
5 Keys to Success
---
By Jeff Cornelius - October 18, 2019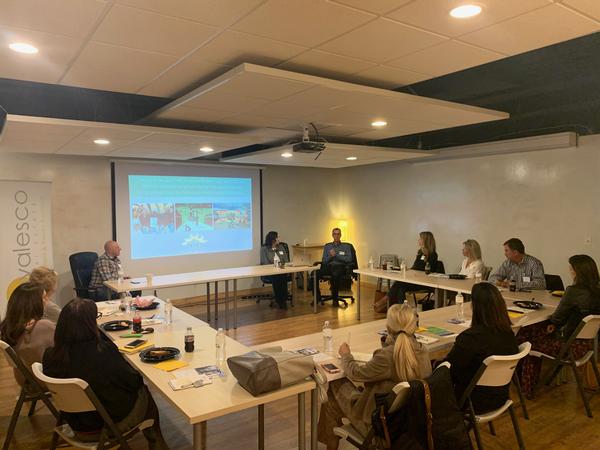 On Tuesday, October 15th, Invalesco led a panel presentation and discussion on the 5 Keys to Success in Marketing Multi-Family projects. I was joined by Cara Moyle of Paper Laundry and Jon Aron of Aron Digital Consulting. Cara is a branding guru and Jon is an SEO and PPC wizard. Together, we discussed some often overlooked, but vitally important, elements to successfully marketing a for-sale or for-rent multi-family project. Below are some of the highlights. 
Discussing only five aspects of marketing your residential project is like saying there are only 5 steps in completing your multi-family project. 1-Acquire the land, 2-Secure financing, 3-Obtain Permits, 4-Build the project and 5-Sell or Rent the Units. Easy, right? We all know there are a lot of details that fit under those 5 steps in your development project. Same can be said for marketing your project. So, the items discussed below are not meant to be exhaustive. Instead, they represent some critical areas that are often overlooked or not shown the attention they deserve. 
Multi-family Marketing: 5 Keys to Success:
Branding. 
Branding is typically not given the attention it deserves. The name, look and feel of your project matter as those are the first things potential customers see before they ever see the inside of a unit.
Strategy
 - 
What is the one thing that differentiates you from your competition? Not price, customer service, or location—something more specific that others probably can't claim. Are you closest to the mountains? Do you have daily dog walking? A concierge? Think of something you can own that your competitors can't.
How would you describe the brand if it were an actual person? Come up with several key traits and make them the foundation of your branding. Examples: Kind, funny, ultra-professional, the 1%.

Vibe
 - 
How does your strategic aesthetic speak to your target?
Are you targeting an older demographic? What are they striving for? How can the brand embody that? The vibe should match between your branding and your
residences. If your complex has a mountain lodge feel, how can that translate to the logo?
Logo
 - 
Your logo should be strategic and meaningful and, ideally, you have several brand marks
. 
When you have multiple versions, you can utilize them in different
applications so that your brand isn't repeatedly announcing
itself.
Do you want the logo to be a wordmark
or an icon or a combination of both?

Marketing Assets
 - 
Branding is more than a logo. Multiple fonts emphasize hierarchy and are used for different applications. Graphic elements add depth. Think beyond one or two brand colors, a palette of pop
colors keep your brand fresh. 

Voice and Tone
 - Having a logo, fonts, and colors doesn't mean your brand is complete. Strategic attributes trickle down to how your brand talks. Are they gregarious or unassuming? Matter-of-fact or more conversational? Stick to that vibe in everything you do
Referral Marketing
Referral marketing can be great lead drivers and do the heavy lifting of paid search (PPC) on your behalf. Good referral marketing sites run paid search so they appear near the top of searches like "Condos for Sale Sloans Lake." Some examples of For-Sale referral sites in the Denver area are: Zillow, coloradohomefinder.com, homes.com, realtor.com and redenverhomes.com. Some examples of For-Rent referral sites are: Zillow, apartmentlist.com, rent.com and apartmentguide.com. 
Keys to Successful referral marketing are:
Use sponsored positions where possible. It will help your listings stand out from the competition.

Use high quality pictures – LOTS of them!

Maximize your listing in any way you can. Use all of the options your referral partner offers. Since most people don't, your listings will stand out.

Monitor and Maximize your ROI. Look not only at the Cost Per Lead, but the quality of those leads. Are they converting to sales? You can sometimes negotiate for better pricing with referral partners based on the performance of other sites that are performing better than theirs. But, you can't just ask for a cheaper CPM or CPL, you need to know your numbers and share them in your negotiation so its clear you know your stuff.

Finally, drop underperforming partners. Even for shorter-term projects, its good to try different sites. You'll know what works and what doesn't for your next project.
Customer Relationship Management (CRM) System
CRM Systems can really help streamline and automate marketing to your verified leads, leaving your sales team more time for personal interaction or lead generation. For your CRM to work well for you, you have to actually use it! Make sure your salespeople are vigilant in entering and managing the leads in the system. You want to assign Prospect Codes at each steps of the customer journey so you can tailor emails and offers to the right people at the right time. 
For instance, you may want to have an 'auto-response' one day after someone visits your project thanking them for coming and asking if they have any follow up questions. You may also want to have an optional email ready to go if you learn your prospective buyer has a property they need to sell before they buy their next one. You want to do this for each stage of the buying process – Discovery, Presentation, Pricing Discussion, Contract Signing, Countdown to Closing and After the Close. You want to stay in touch with your buyers or renters even after they move in. As we'll discuss later, positive reviews are gold and negative reviews are toxic and almost impossible to remove.
Google Analytics
Before diving into digital marketing, its key to know the lingo. 
Google Analytics = A free tool that allows you to measure engagement on your website. Channel = A marketing channel. Social Media, Paid Google Advertising, SEO or Referral traffic partners like Zillow are all channels. Campaign = A marketing initiative with a specific purpose (like drive leads) that targets a specific audience segment (people searching for new homes in Golden, CO). Key Performance Indicator (KPI) = metrics that allow you to understand whether your marketing campaigns are meeting your business objectives. Goal Conversion = A positive user action that happens on your website. This is how we track KPIs in Google Analytics. Creative = A digital advertisement. Keyword = We can buy specific keywords like "new homes in Golden" and serve ads when people enter this phrase into Google search
Google Analytics. 
Having an accurate and useful Google Analytics Setup is critical because it allows you to see what's going on and whether your digital marketing is working. 

How will you measure success when

 

potential home buyers visit your website? Measurement planning is key. Establish Key Performance Indicators (KPIs) so you can compare the quality of different website traffic sources. Some examples of KPIs are: Home listing views, Floor plan downloads, 3D tours, Phone calls, Contact forms, Contact emails and Live chats.
You also want to set up Goal Conversion Tracking in Google Anayltics to capture positive user actions on your website. 
It's possible to record when users:
Download floor plans, Take 3D tours
, 
Submit contact forms
, 
click chat
 and c
all your phone number
. 
Setting up goal conversion tracking allows you to attribute
conversions to specific marketing channels and campaigns
Attribution is key to maximizing Return on Ad Spend (ROAS). Attribution helps you determine which channels and campaigns are really driving leads. Knowing which channels, campaigns, or keywords drive leads
allows you to optimize your digital marketing. Eliminate waste and only spend on channels that drive leads. Over time you can compare the lead generation rate and cost per lead across all your channels and campaigns. The goal is to optimize your Return on Ad Spend (ROAS). 
Reviews
Reviews are today's Word of Mouth Advertising. In the residential real estate space, Google and Facebook reviews are the most important to cultivate positive reviews. Some things to keep in mind: 88% trust online reviews as much as their best friend. 80% won't buy based on negative reviews. Angry customers are 2-3x more likely to write a negative review than a customer with a positive experience. It takes (12) positive reviews to cancel out (1) negative. It's also very hard to get negative reviews removed, so do your best to avoid them from Day 1!

What can you do?
Engage with your neighbors before construction. Treat every potential customer professionally. Treat every ACTUAL customer EXTREMELY professionally. Actively ask for reviews as part of the closing process. Monitor Reviews for trends and reply to as many reviews as you can, especially the negative ones!
Go Back