Market Update | June
---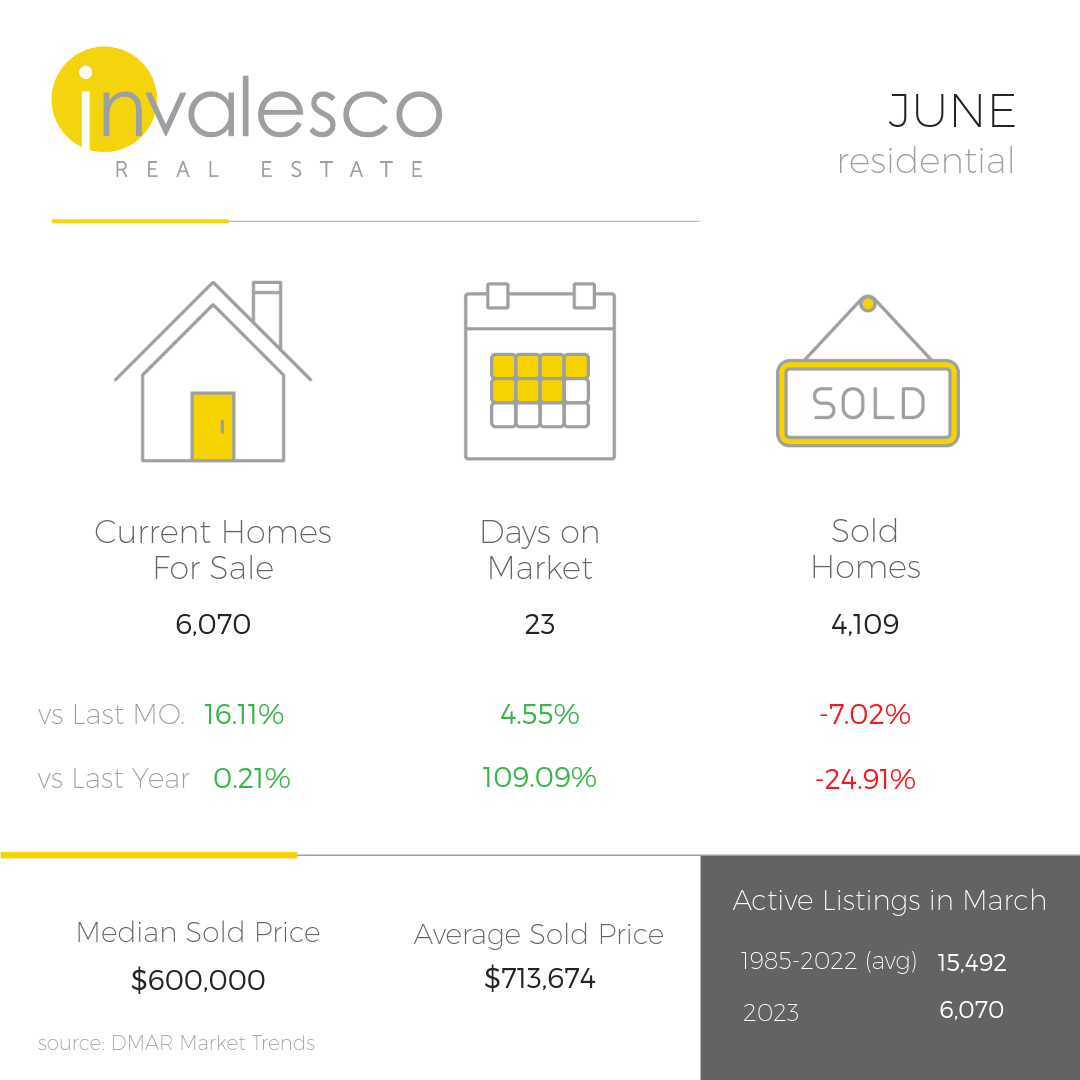 June continued to be a slower than usual month for the Denver real estate market due to both high interest rates and a lack of inventory. We experienced a decrease of almost 25% in closings as compared to the same time last year. We expect this trend to continue throughout the remainder of the year. 
Inventory ended the month at a total of 6,070 active listings. Though this number is similar to what we saw at this time last year, it is low compared to June 2019's pre-pandemic level of 9,520 active listings at month's end. Year to date there has been a decline of over 27% in new listings as compared to last year, mostly driven by sellers' hesitancy to give up their locked-in low mortgage rates. 
Though many predicted that interest rates would start decreasing this summer and eventually stabilize in the 4.5 – 5.5% range by year's end, that has not started to happen. Instead, rates remain high due to stubborn inflation. June PCE Core inflation came in at 4.6%. While down from its 2022 high of 5.3%, PCE Core inflation has been stuck at this level since December 2022. The Fed announced that they are penciling in two more rate hikes in 2023 and are expecting to keep the fed funds rate high for longer than expected in an attempt to bring inflation down to 2%. This stubborn inflation doesn't bode well for mortgage rates, and we now expect rates to stay at the current higher levels for the remainder of the year.  Meanwhile, 64% of buyers are waiting on the sidelines for rates to drop.
On a positive note, home prices have remained steady. The average close price ended the month at $713,674, representing a 2.56% increase month over month and essentially no change from last year. Homes continue to hold their value.   
We expect inventory will creep up over the summer months, and days in MLS will increase as well.  Buyers will gain an advantage, and it will be a great time for them to get off the sidelines and purchase a home in a less competitive environment.  It is also a great time for sellers with equity in their homes that are looking to downsize or otherwise cash out of their homes and purchase based on their current needs.
Go Back